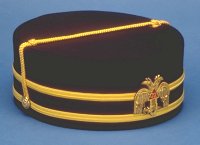 Birmingham Valley Knights of St. Andrew
The Knights of St. Andrew are a service organization created to allow 32˚ Scottish Rite members to be more active in our Valley. The Knights perform a number of duties that include: greeting guests and candidates to our Valley, assisting in clean-up when requested, working the Child ID program sponsored by the Grand Lodge of Alabama F&AM, sponsoring fundraising events, and any other duty that is requested of them.
Candidates interested in becoming a Knight of St. Andrew must meet a few requirements. This organization is intended for 32˚ Scottish Rite Masons. The candidate must complete the petition to join and will then be scheduled to take part in the Squire Ceremony.